Business School at A Glance
University of Shanghai for Science and Technology (USST) is a Key Municipal University in Shanghai with key disciplines in engineering, sciences, management, economics, and literal arts. With a glorious history of over 100 years and an incessant tradition of outstanding education, USST have cultivated more than one hundred thousand of outstanding talents, and is known as "Whampoa Military Academy in Manufacturing Industry" in China. Three main famous disciplines of USST—Power Engineering and Engineering Thermal Physics, Optical Engineering, Management Science and Engineering are at the forefront in China higher education, and advantages and characteristics of the discipline are national recognized.
Currently, USST has 1500 full-time faculty, including 6 members of Chinese Academy of Engineering, and more than 40 state-level experts (National Natural Science Funds for Distinguished Young Scholars, Thousand Talents Plan of Organization Department CCCPC, Chang Jiang Scholars and national teaching award winners). As a comprehensive university, USST now has 18 colleges/schools, one teaching department, 30 research institutes, 12 research centers and 3 research academies. The total number of full-time student is more than 24000, including 17700 undergraduates, 6300 postgraduates (master and doctoral degree candidates), and over 1000 international students.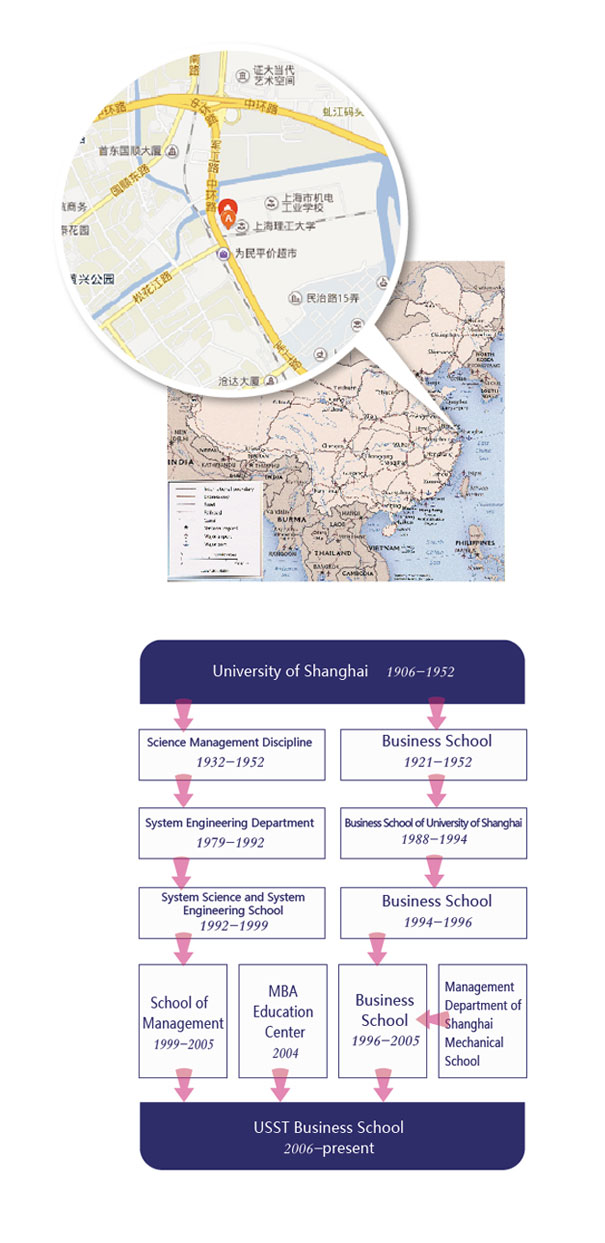 Get into USST Business School
Chronology
The history of USST Business School dates back to 1921 when Business and Management Discipline was established by University of Shanghai. Early in 1932, University of Shanghai launched Science Management Discipline in Shanghai. In 1979, the university established Institute of System Engineering Department (Automation Department) and System Engineering; it is the earliest teaching and research institution in System Science and Engineering in China. In September 1988, the Business School at University of Shanghai was rebuilt.In July 1990, the school was migrated to No. 516 Jungong Road (main campus). In May 1992, System Science and System Engineering School was established by merging System Engineering Department and System Engineering Institute. In January 1997, the Business School at University of Shanghai and the Management Department of Shanghai Mechanical School were amalgamated into USST Business School. In May 1999, System Science and System Engineering College changed its name into School of Management. In 2004, USST founded it's MBA Education Center. In January 2006, the new USST Business School was established by merging the School of Management, the Business School and the MBA Education Center.